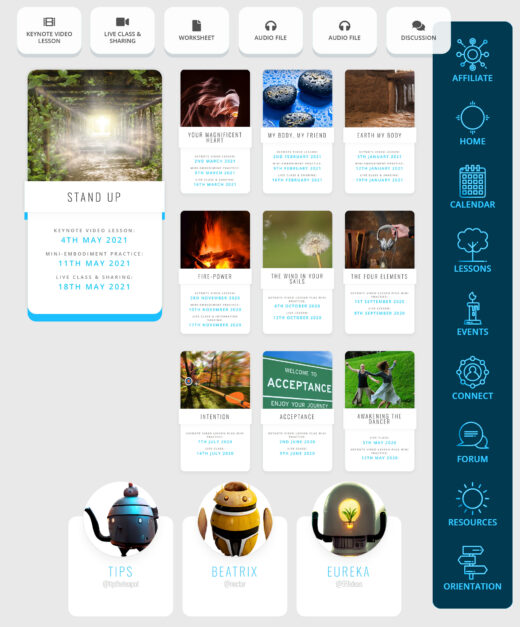 Pearls of Wisdom
Have you created an online course curriculum but feel overwhelmed with how to get it to market? We build custom online learning platforms ranging from self-led courses, live workshops, online conferences, to fully fledged virtual schools for subscription based memberships. The world's your oyster when it comes to being an online educator. We can develop the systems and configure the workflows that are most appropriate for your subject and audience.

Sell your Course
Edutech
Toolkits for Teachers
As educators, we know how important a fully furnished and well considered platform is to deliver your content. To provide a high quality experience for your students you need a reliable system to house course materials and facilitate an engaging learning environment. We don't take this lightly. We study what works and what doesn't work in the digital learning world. Our digits are on the pulse when it comes to enhancing success for teachers and students alike.

Our Work
The global eLearning market is estimated to reach a value of
$645 billion
by 2030.
Live to Learn
Custom Learning Environments
Technology has revolutionised education. And eLearning has changed the topology of human potential. Making tuition accessible globally through virtual classrooms and learning management systems (LMS) has opened the door for educators in every field. The sky's the limit, what's your area of expertise? Let's build you a classroom to fit your niche.

Web Dev
Your Course, Your Way.
Organise and present your content in the way that works best for your topic and teaching style. Encourage engagement with personalised automated notifications. Create quizzes, assignments and questionnaires to promote retention. We provide you with all the tools you need to customise your course so that you have full control over the delivery.

Book a Call
Drip Content
Manage when students have access to your course material either by actions they take or by date.

Automated Notifications
Automatically trigger emails based on actions students take (or don't take) in a course.

Badges & Certificates
Award certificates based on quiz results, completing a course, or simply to honour the students' learning journey!

Discussion Forums
Encourage conversation among students creating specific discussion forums for each course subject.

Leaderboards
Award and spotlight the students who achieve the best scores on quizzes in your courses.

Assignments
Set up required assignments before students can progress to the next lessons.